Greatest Light Heavyweight Mixed Martial Artists of All Time
Greatest Light Heavyweight Mixed Martial Artists of All Time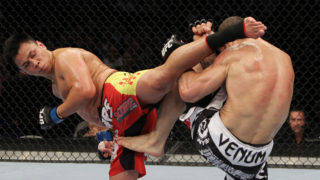 Mixed martial arts' light heavyweight division is one of the most competitive. Many of its great legends have come and gone. Who are its greatest warriors of all time? It's very exciting to know, but one thing is sure that all went through karate classes once in life. If you want to know more about Sydney Martial Arts, first you need to know about heavyweight mixed martial artists of all time.
Greatest Light Heavyweight of All Time: Chuck Liddell
The "Iceman" is arguably the most recognizable face out of any American mixed martial art. He was the first man to perfect the sprawl-and-brawl strategy. Instead of using his background as a former NCAA Division 1 wrestler in an offensive context, he chose to use it for sprawling and getting back onto his feet in the rare instances where he was taken down. Once his opponents were forced into a standing duel, Liddell would finish them off with his devastating strikes.
Before entering mixed martial arts, Liddell held national championships in multiple kickboxing organizations and had a record of 20 wins (with 16 by knockout) and 2 losses. His victory over Alistair Overeem by knockout in 2003 is further testament to his striking prowess. Overeem is the current winner of kickboxing's highest honor; the K-1 Grand Prix.
Some have criticized him for only relying on his powerful right overhand and therefore being one-dimensional. Keith Jardine, coming into UFC 76 as a huge underdog but well-aware of this tendency, was able to keep Liddell away with well-timed front kicks to his stomach and subsequently win by decision.
But let's not forget that Liddell splintered Rich Franklin's arm with just one kick in his last UFC fight or that he put a highlight reel head kick on Renato Sobral. While facing Wanderlei Silva, Liddell surprised the dangerous Brazilian with unexpected takedowns and spinning backfists.
Liddell held the UFC's light heavyweight championship for a little over 2 years. His 16 UFC career wins is only 2nd to Matt Hughes' 18. He also had two 7-fight winning streaks. The opponents demolished by Liddell make up a "who's who" of mixed martial arts. They include Guy Mezger, Vernon White, Jeremy Horn, Vitor Belfort, Kevin Randleman, Jeff Monson, and of course, Tito Ortiz.
Runner-Up: Wanderlei Silva
Wanderlei Silva was by far PRIDE's most dominant champion in this weight division. But what makes him deserve to be the runner-up is his desire to finish fights. He will knock his opponent out or get knocked out trying. With this in mind, his extremely vicious brand of muay thai kickboxing and background as a former bare-knuckle vale tudo brawler make complete sense.
Fortune seems to favor the bold seeing as he's overpowered former UFC champion Quinton Jackon with brutal knees on two occasions. Another man he's beaten to a pulp, on three separate occasions, is the famed Kazushi "Gracie Hunter" Sakuraba.
His best days were with the PRIDE Fighting Championship. At his current age, especially considering the wear and tear of fighting for almost 15 years, it's highly unlikely that he'll also win accolades with the UFC. However, he has recently transferred to the middleweight division.
He'll have more energy, less sore joints, and opponents that don't hit as hard now that he's at a lighter weight. His favorable middleweight debut against Britain's most famous mixed martial artist, Michael Bisping, shows that he's still a force to be reckoned with. The other Silva should probably be more or less concerned about his belt.
Future Outlook: Mauricio Rua
The light heavyweight division has recently seen three phenomenal fighters who sported long undefeated streaks. Jon Jones and Ryan Bader haven't had title bouts yet so it's tough to say just how much potential they have. Both seem unstoppable but their opponents will also get exponentially harder from here on out.
Lyoto "The Dragon" Machida might have the most spotless record of any light heavyweight champion in history at 8 wins and 2 losses within the Octagon. Yet, the Japanese karate master's overall tendency is to just work the jab and throw advanced kicks. In other words, he tries to stay at a safe distance, avoid slugfests, and win by decision.
The UFC has been cracking down on such folks and Machida responded by trying to finish his recent fight against Quinton Jackson. To his credit, he has knocked out Rashad Evans and Thiago Silva. He also finished Rameau Thierry Sokodjou with a choke. But his chin is still not as tested as some of the other top contenders. He could very well end up getting knocked out more frequently in the future if he continues to be more aggressive.
The current UFC champion, Mauricio Rua, is perhaps most likely to be the next great legend. First, he has a well-rounded background in muay thai kickboxing for striking and Brazilian jiujitsu for grappling. Secondly, he has shown knockout ability on par with Silva and Liddell while being much more technically sound. Instead of throwing wild and looping punches, like Liddell and Silva, Rua throws straight shots in accordance with textbook boxing.